Shuanglin held the 2018 third-quarter operating work conference
2018-10-24 85
On October 24, the 2018 third-quarter operating work conference of Shuanglin Company was successfully held in Shanghai headquarters. At the meeting, the company comprehensively summarized the overall operation of the company in the first three quarters by accurately analyzing the operation indexes of each business unit project, and made a key deployment of the operation strategy and management measures in the fourth quarter. Chairman of the company Wu Jianbin, General Manager Gu Xiaoying, the company's functional leaders, general managers of each business division and members of the leadership team, as well as several Shuanglin Group leaders have attended the meeting.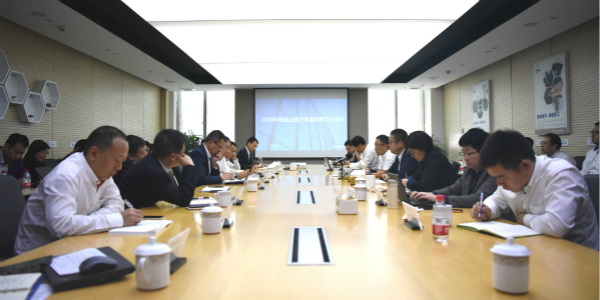 First, the financial center chief analyzed the company's financial situation in the first three quarters. The responsible persons of each business division respectively reported the operation situation and the target completion situation of each business unit in the first three quarters in detail, and put forward the working target and measures of the fourth quarter based on the market trend.
General Manager Gu Xiaoying reviewed the early work of each business unit, clarified the operating principles and key work directions of the fourth quarter and 2019, and emphasized to further strengthen the work of market development, technology research and development, cost control and efficiency improvement, so as to save energy for the subsequent accelerated development.

Chairman Wu Jianbin made an important speech at the end of the meeting, asking all operating units to effectively implement the work deployed by General Manager Gu Xiaoying, and stressed that in terms of operation management, efficiency should be increased with less cost, inventory reduction be made, capital turnover efficiency be improved, and process control be strengthened; in terms of resource allocation, technical research and development support should be fully provided; while in terms of talent management, we should improve efficiency and streamline our organization.

In particular, he pointed out that we should firmly formulate effective operation measures and management mechanism based on the medium and long term strategies of the company; additionally, we should attach importance to team building and precautions, be confident and united with each other, and carry forward the team spirits to face the future development and challenges.